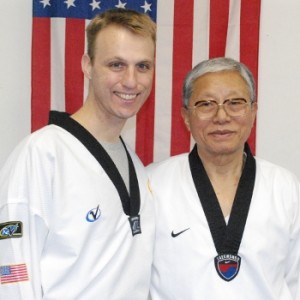 Master Gordon W. White began training in Taekwondo in 1983 and became a student of Blue Wave founder Grandmaster Twing in 1986. In 1987 Master White trained in Korea for two months. After returning he won the 1988 AAU National Taekwondo Championships.
"I was made to feel that I had tremendous potential and that by practicing Taekwondo and dedicating myself to it, I would be successful in anything I wanted to pursue," Master White said of his training.
In 1991 Master White moved to Korea and attended Yonsei University as an exchange student. During his year abroad, he trained with several established university, high school and professional Taekwondo teams.
He is a former U.S. National Team member and international medalist. Between 1993 and 1996, he was one of the United States Taekwondo Union's Light Weight competitors, representing the US National team at such events as the World Games, World Cup, and the Japan Open. Some of his career accomplishments include placing 3rd at both the World Cup and the Japan Open in 1996.
He opened Burlington Blue Wave in downtown Burlington in 2000 and now has more than 80 students.
"Teaching has made me understand Taekwondo far better than if I had just remained a practitioner," Master White said. "The satisfaction comes in seeing the school grow, watching the student progress and the competitor's performance improve."
| | |
| --- | --- |
| Instructor | Master Gordon W. White |
| E-mail Address | [email protected] |
| Phone Number | 802-658-3359 |
| Gym Address | This location is temporarily closed. Please call for more information |
*If you are interested in attending Athlete Training Program sessions, please speak to Master White.
**Step up class is used to help prepare young students to attend the family class.
***Fun, relaxed way to improve your skills and listen to excellent music and wear what you want (but bring your gear- we're sparring)
| Day | Time | Class | Description |
| --- | --- | --- | --- |
| Monday | 5:30 - 6:20 | Children Beginners White Belt/Yellow Stripe** | Children 8 and under |
| Monday | 6:30 - 7:30 | Family Beginners White Belts – Green Belts | 8 and up (under 8 yellow belt and up) |
| Monday | 7:30 - 8:30 | Red and Black Belt Advanced Class | Test Prep - Varied Curriculum |
| Tuesday | 5:30 - 6:20 | Juniors Class | Juniors 12 and under, All Ranks |
| Tuesday | 6:30 - 7:30 | All Ranks Class | All Ranks – 13 and Up , (Red Stripe and up, all ages) |
| Wednesday | 6:00 - 7:00 | Family Class - White Belt – Green Stripe ONLY | 8 and up. (Under 8 with permission) (graduated up from Children Class) |
| Wednesday | 7:00 - 8:00 | Advanced Class | Green Belt and up, all ages |
| Thursday | 5:30 - 6:30 | Juniors 12 and under - Intro to ATP | 12 and under Yellow belt and up (under 8 check with Master White first) |
| Thursday | 6:30 - 7:45 | Advanced Class – Sparring Curriculum | 13 and up, Green Belt and higher (exceptions made, see Master White) |
| Saturday | 10:00 - 11:00 | Family Class, All ranks welcome, focus on White Belts –Green Belts. | All Ages, All Ranks, 8 and older |