The BVT Scholarship Fund has assisted Taekwondo students with tournament and seminar participation, tuition and testing payments, and other Taekwondo training expenses. Tax deductible donations are welcome.
The legacy of the Blue Wave Association's founder, Grandmaster Bruce V. Twing, continues through the BVT Scholarship Fund.
When Grandmaster Twing opened his school in 1969, he knew the positive impact that Taekwondo could have on an individual because he had experienced it for himself. He wanted to share this with as many people as possible, so he made it his goal to never turn away a potential student because of financial obstacles, or not to allow an individual to participate in Taekwondo events because he or she couldn't afford it.
After Grandmaster Twing passed away in 1999, his son Shawn and wife Joyce established the Bruce V. Twing Scholarship fund in his honor. This fund is used to help ease the financial burden of traveling to tournaments, paying tuition, and other expenses related to excelling in Taekwondo.
Since 1999 the BVT Fund has helped dozens of Taekwondo students realize their dreams, attain their goals, and experience the positive impact Taekwondo can have on one's life.
Background on Bruce V. Twing
Bruce V. Twing studied under Master Tae Sung Lee at the Osan Air Force Base in Korea while on a 13-month tour in the U.S. Air Force.
After returning to Vermont, Grandmaster Twing lost contact with Grandmaster Lee until 1986, when they reunited in Korea. From 1986 until he passed away in 2014, Tae Sung Lee was the Blue Wave Association's Grand Master Instructor. He visited the Association's dojangs from his home in South Korea annually and shared his knowledge and passion for Taekwondo.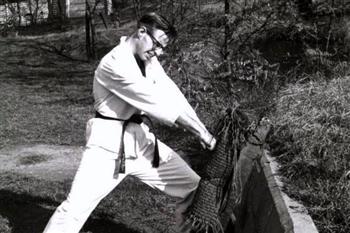 After Grandmaster Twing opened his first Taekwondo school in Hardwick, Vermont he promoted many students to black belt, who then went on to start their own gyms. Inspired by two words that appear on the logo, 'Character' and 'Leadership', and in an effort to keep communication lines open between the dojangs across the Northeast, the Blue Wave Association was formed in 1978.
Grandmaster Twing began training Master Gordon White in 1986. The two bonded and at Grandmaster Twing's request, Master White was named President of the Blue Wave Association after he died in 1999.
Grandmaster Twing's Blue Wave students carry on his dedication and mission. They remind their own students of the time and energy he put into the creation and growth of Blue Wave. His love for Taekwondo can be seen in each of the Blue Wave dojangs that now operate. His students are making his dream of building the Blue Wave "wide and deep" come to fruition as they remain true to his goal of Blue Wave Taekwondo being a positive force in the communities and lives of as many people as possible.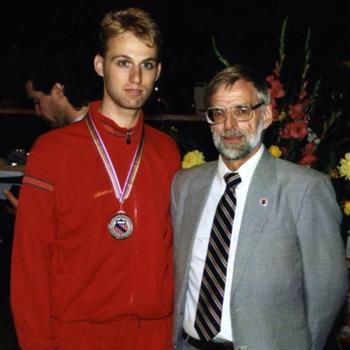 Practitioners of Taekwondo have to look back to see where we came from in order to see where we are."
-- Grandmaster Bruce V. Twing, May 1998